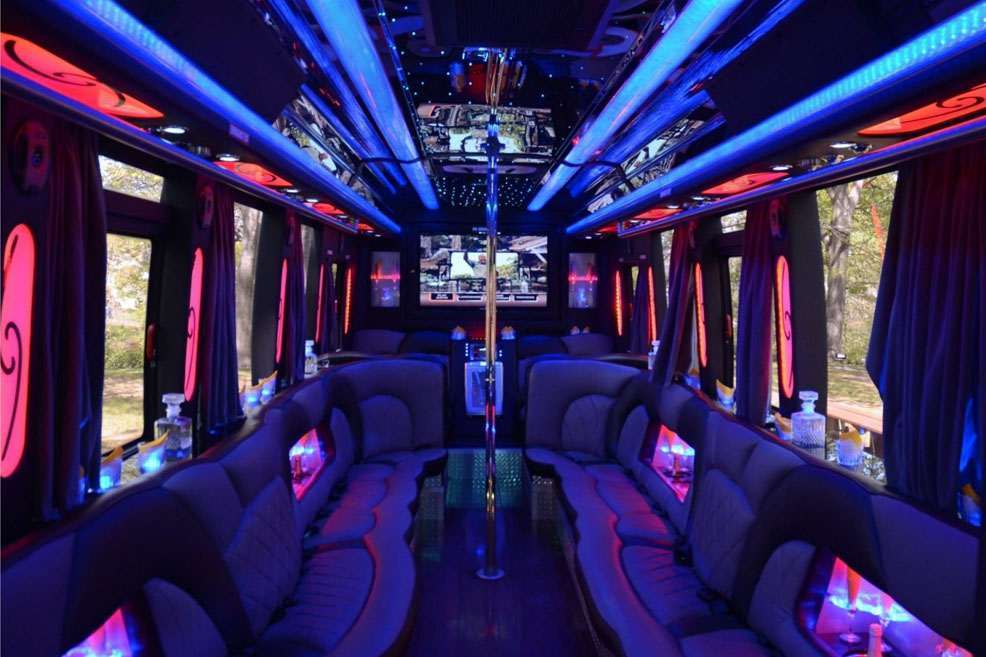 Imagine arriving in the buzzing state of Texas. What could be better than experiencing its electrifying spirit from the plush and spacious interior of a luxury limousine or party buses Fort Worth?
Get ready to explore this vibrant city in a way you've never imagined. Experience the endless thrill of the dynamic nightlife, or immerse yourself in the majesty of high-profile corporate events with GL Transportation. Start your journey with a fusion of luxury and comfort you've only ever dreamed of.
We boast an incredible range of party buses in Fort Worth TX, tailored to accommodate parties of all sizes. Got a large entourage? Not a problem. With us, you'll find the flexibility that fits your needs like a glove. We firmly believe that our fleet is the finest in this region of the USA, and we're ready to bet our reputation on it.
But don't just take our word for it. Browse through the detailed information and crisp photographs we've compiled for you. Get in touch for a quote or to schedule your luxury ride. There's truly no better way to handpick the ideal limo bus for your monumental event! Welcome to a journey of a lifetime with the Fort Worth Party Bus.
Party Buses in Fort Worth: The Ultimate Transport Solution
Traveling in groups can be a logistical nightmare. How do you ensure everyone arrives at the same time? How do you manage parking and navigating through Fort Worth's busy streets? GL Transportation's party buses Fort Worth offer an answer to all these challenges.
With party buses in Fort Worth TX, you don't just get from A to B; you get there in style. You'll enjoy plush seating, ambient lighting, and an entertainment system that keeps the party going even on the road. Our buses are driven by professional chauffeurs who are well-versed in the city, ensuring a smooth and on-time ride every time.
Curious about the cost?
No need to worry; we're transparent about pricing and do our best to provide a competitive quote. We consider various factors such as distance, time, number of passengers, and specific amenities to offer you the best value for your money. In short, our party buses Fort Worth prices won't break the bank.
What Type of Party Buses in Fort Worth We Have?
Our executive fleet includes the latest models of limousines, shuttles, corporate sprinters, and party and charter buses in Dallas. We present a safe and reliable alternative to public transport for entertainment and special events, including but not limited to:
Weddings
Proms
Concerts
Homecoming
Corporate Gatherings
Quinceaneras
Bachelor/Bachelorette Parties
Every single one of our vehicles is beautifully customized and brimming with a wide array of extraordinary features and amenities. Be it a wild, fun-filled party night or the refined elegance you seek for your wedding day - trust our versatile fleet to provide just the ambiance you desire!
Operating 24/7, our stellar customer service is always available, just a phone call away. Plus, our service coverage extends well beyond the metropolitan areas, ensuring we can cater to your every need, no matter where you are! Whichever vehicle you opt for from our grand fleet, prepare to be astounded by some amazing perks, such as:
State-of-the-art TVs
DVD players
Bespoke beverage areas
Gleaming floors
Vibrant lighting
Top-notch sound systems to lush leather seating
Each aspect is crafted to help you tailor the perfect ambiance for your event! As icing on the cake, every vehicle comes complete with a professional chauffeur, ready to transport you to any local hotspot.
We are dedicated to serving you round the clock - our 24-hour service embodies our commitment to unparalleled customer satisfaction. But our efforts don't stop there. Our sprawling service area is one of our key offerings.
We navigate throughout Texas to cater to your event's requirements, whether you're hosting a local bash, venturing toward Dallas, or planning to travel even beyond. With us, the distance is never a hurdle!
Dallas Party Bus with Pole: A Unique Party Experience
Ever thought about having a party on wheels? GL Transportation's Dallas party bus with a pole makes this possible. It's a fun, unique, and exciting way to elevate your party.
Our Dallas party bus with a pole isn't just a vehicle; it's a mobile party venue. You can dance, enjoy music, and even drink while traveling around the city. It's perfect for bachelor/bachelorette parties, birthday celebrations, or a fun night out with friends.
Is it worth hiring? Absolutely! It adds extra fun to your event and ensures your party is one for the books.
GL Transportation: Your Go-to for Party Buses in Fort Worth TX
When it comes to party buses Fort Worth, GL Transportation is the name you can trust. We proudly own luxury vehicles, professional chauffeurs, and outstanding customer service. With us, you're not just hiring a party bus but booking an unforgettable experience.
We have great prices and 24-hour Fort Worth limo service; you've got a winning combination! There's nothing we won't do to make our customers feel 100% at home during their outings with us, and even during the planning process, so please don't hesitate to reach out to us at any time. We're here to take your call 24/7, or if you prefer, email us! It's always easy to get in touch.
Simply put, we provide luxury service for the Dallas-Fort Worth, metro area residents whenever they have something to celebrate! We have a variety of party buses in Fort Worth, so we know you'll find something you love.
Give us a call and receive advice to get the perfect vehicle for your special occasion in the DFW area.
Get Transportation for Every Memorable Occasion!
Got a special occasion on the horizon? Your transportation needs, whether birthdays, bachelor/bachelorette bashes, weddings, thrilling sports events, or grand field trips with larger groups, are covered. Dial us today and secure our premium Fort Worth party bus rental for your upcoming event!
Looking to add a dash of luxury to your big day? Our classic stretch limousines and state-of-the-art limo buses are just what you need! Celebrate the day in grand style with your loved one and the whole wedding party as we transport you to the wedding venue and reception hall or even whisk you away to your honeymoon destination in unmatched elegance.
Experience the true meaning of a 'party on wheels' with our deluxe Fort Worth party bus service. We've got everything from stretch Hummer limos to party buses in Fort Worth with built-in bars! We even provide ice and cups; all that is left for you to do is craft a cocktail menu and bring your preferred drinks.
Elevate your girls' night out with an exclusive touch of luxury with our limo bus service. Whether it's a relaxing spa day, a night of bar hopping, a sassy pole dancing class, or a sophisticated wine tasting for your wild bachelorette party, let us get you there in style with our limo or party bus rental.
Our vehicles come equipped with stellar sound systems to get you in the concert mood on your way there and to let you relive the experience on the way home. Immerse yourself in the pulsating bass while enjoying the luxury and style of our services. Our party lights will make you feel like you're in your moving nightclub!
Party Buses Fort Worth: A New Dimension of Elegance and Adventure
The sprawling city of Fort Worth, with its rich tapestry of culture, history, and vibrant energy, demands nothing less than a grand entrance. And what better way to do it than aboard the luxurious party buses in Fort Worth TX? Every street, every turn, and every iconic landmark becomes a backdrop to your elegant voyage.
For a city that never sleeps, the dynamic pulse of Fort Worth demands transportation that matches its vibe. This is where the elegance of our party buses comes into play, offering not just a means of transport but a complete event in itself.
Why Choose Party Buses Fort Worth?
Sophistication and Comfort: Our party buses in Fort Worth epitomize sophistication and comfort, making every ride feel like an exclusive event. From the plush interiors to the state-of-the-art entertainment systems, our buses ensure you make an impression wherever you go.
Affordable Luxury: At GL Transportation, we believe that luxury shouldn't be exorbitant. We've tailored our pricing to offer a blend of luxury and value, ensuring that our customers get a taste of the high life without burning a hole in their pockets.
Professionalism: Our team, from customer service to our chauffeurs, exudes professionalism. Whether it's sticking to schedules, maintaining our fleet, or ensuring safety, professionalism is at the core of what we do.
Party Buses for Every Occasion
Night Out on the Town: Why wait to reach your destination to start the party? With our party buses in Fort Worth TX, every journey becomes a joyous celebration. Hit the city's hottest spots and let the party continue on wheels!
Graduations & Prom: Celebrate these milestone moments with unmatched style and luxury. Our party buses are the perfect way to make these events even more memorable.
Airport Transfers: Start or end your trip on a luxurious note. With ample space for luggage and a comfortable ambiance, our buses ensure your airport journeys are stress-free and opulent.
Weekend Getaways: Planning a weekend escape? Let our party buses in Fort Worth TX set the tone for your getaway. Experience comfort, entertainment, and luxury from the moment you step in.
Party Buses in Fort Worth: The Experience Awaits
GL Transportation has crafted a name synonymous with excellence in Fort Worth. When it comes to party buses, we understand that it's more than just a ride; it's an experience. And our endeavor is to make that experience unforgettable.
Our expanding fleet boasts vehicles equipped to cater to various needs. Each bus is a testament to our commitment to luxury, safety, and unparalleled service. The interiors, crafted with precision, offer the ambiance of a premium lounge, while the exteriors make a bold statement on the streets.
Connectivity and Beyond: With the prime locations of Dallas and Fort Worth in proximity, our services are not limited to just one city. Whether you're looking to explore the artsy vibes of Dallas or the rich cultural scene of Fort Worth, our party buses are the perfect companion for inter-city adventures.
Choosing Party Buses Fort Worth: Elevating Every Journey to an Experience
Party buses Fort Worth is not just a service; it's a lifestyle choice. It's choosing sophistication, luxury, and an unyielding commitment to excellence. It's about creating memories, celebrating life's moments, and enjoying the journey as much as the destination.
Book your party buses Fort Worth with GL Transportation today and embark on a journey that promises luxury at every turn.
Our Happy Client's Feedback
"GL Transportation's service was exceptional. The party bus was spotless and equipped with everything we needed for a memorable night. Thank you for making my birthday party extraordinary!"
- Danielle S., Dallas.
"Booking a Dallas party bus with a pole from GL Transportation was our best decision for our bachelor party. The entire experience, from booking to drop-off, was seamless. We'll be using their services again."
- Mark A., Fort Worth
"I've used many transportation services, but none compares to GL Transportation. Their professionalism, punctuality, and top-notch party buses make them the best. Highly recommended!"
- Tina L., Dallas
"GL Transportation never disappoints! I've hired their party buses for multiple events, and they've always exceeded my expectations. Can't wait to plan my next event with them."
- James P., Fort Worth